GOLDEN CIOC
GOLDEN CIOC – liquid chocolate for all – for drinking, desserts, ice creams, as a summer refreshment or warm winter drink.
Suitable for
drinking, dressing or supplement for many delicacies (ice creams, cookies, cakes, cups), for preparing cold summer drinks (with added different flavors - mint, coconut, rum, coffee). Ready for use as it is. This chocolate has excellent density allowing a very wide range of use.
.
Serve in cups, add cream or ice cream and you will get the ideal delicacy. Cold, with additions of various flavors, gives the unique summer refreshment. In winter you can serve it warm as a hot chocolate. You can mix it within creams, ice-creams, etc.....
It's a chocolate for all purposes!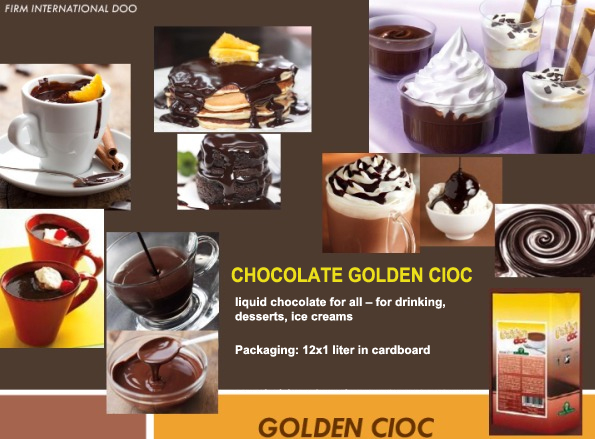 WAREHOUSE
Popova Bara Nova 2 No.79
11000 Belgrade
Serbia

011 414 0925

milecvetkovic@gmail.com